PRESS RELEASE : Memorandum of Understanding (MoU) on the Expansion of Air Linkages in IMT-GT
November 19, 2018

Building Awareness of IMT-GT to be Known Across the Potential Stakeholder and Millennial Generation
February 19, 2019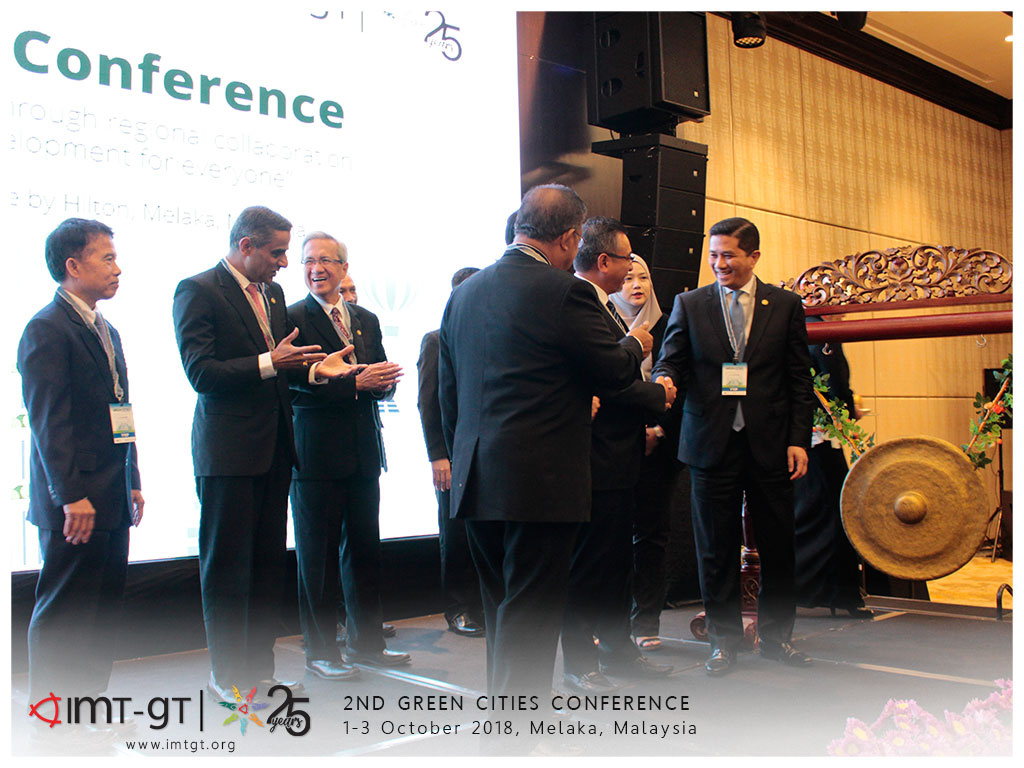 On 1 – 3 October 2018, the Green Cities Conference was held in Melaka, Malaysia in conjunction with the 23rd IMT-GT Ministerial Meeting. This is the second round of Green Cities Conference supported by Asian Development Bank (ADB). ADB has been supporting IMT-GT in green agenda since 2013 especially on technical assistance. This conference was organised by Centre for IMT-GT Subregional Cooperation and Green Growth Asia Foundation with the assistance from Melaka Green Technology.

This year theme, "Bringing Innovative Solutions through Regional Collaboration to Secure Sustainable Development for Everyone" is timely for the subregion to look into the pressing development challenge to secure green growth. The conference aim to explore how 4P – Public, Private, People and Professional stakeholders partnering to deliver a new green growth agenda under the United Nation's Sustainable Development Goals, Paris Agreement targets under COP21 and ASEAN Sustainable Urbanisation Strategy goals.

The ASEAN region stands today at an important crossroads of growth with increasing population, depletion of reserve forest, looming threats of climate change the and many other major issues on environment. It is important for us to manage our environment in a sustainable way despite the growing demands on development. At a global scale, the United Nation's Sustainable Development Goals (SDGs) aim to mobile efforts to end all forms of poverty, fight inequalities and tackle climate change by 2030. The Paris Agreement emphasize on the important of a joint country collaboration at a global and regional level, at the same time recognises contribution from each individual country to contribute towards the goals. At a regional level, ASEAN through ASEAN Sustainable Urbanisation Strategy (ASUS) which was recently launch this year, draws on the important to collaborate together responding to current urbanisation trends that are having adverse impact on cities and societies. Through subregional cooperation such as Indonesia-Malaysia-Thailand Growth Triangle (IMT-GT) and Brunei-Indonesia-Malaysia-Philippines East Asia Growth Area (BIMP-EAGA), the global issue on environment could be addressed collectively. Implementation of environment concern projects at the state or province level under subregional cooperation have been proven effective. During the conference, selected mayors from several cities in IMT-GT and BIMP-EAGA shared their initiative on green agenda.

The 3-day conference was divided into 2 parts (1) Vision Casting for Solutions and (2) The responses cities can Adopt. The conference could be considered as successful and has been able to provide a well-considered general context on the environmental and sustainability issues facing cities and the importance of making a response at an early stage. The conference was attended by more than 100 participants from at least seven countries targeting senior officials', practitioners, private sector, non-governmental organisation, academicians and students.
CLICK HERE FOR THE UPCOMING EVENTS