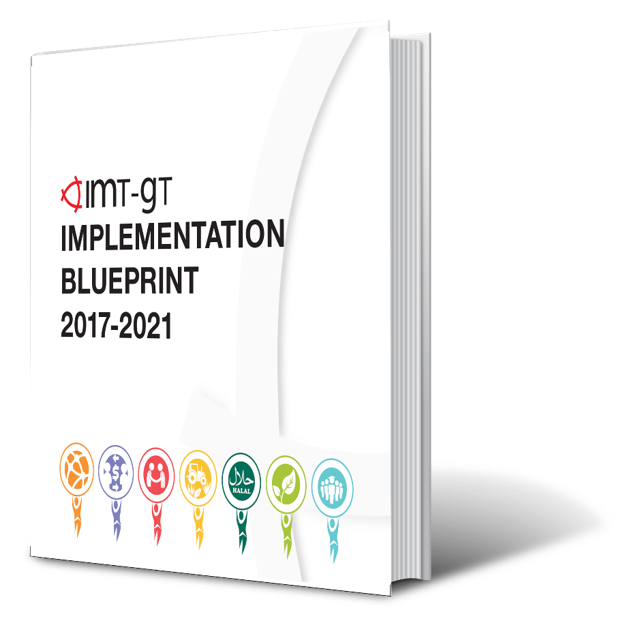 Implementation Blueprint 2017 2021
The Indonesia-Malaysia-Thailand Growth Triangle (IMT-GT) Implementation Blueprint (IB) 2017-2021 contains the first batch of five-year strategies towards implementing the new long-term vision for IMT-GT, i.e., IMT-GT Vision 2036 (Vision 2036).
Adopting the Vision 2036 Guiding Framework
Being an integral part of Vision 2036, IB 2017-2021 shares the same Guiding Framework as the former.
Vision and goals
IMT-GT's vision is to be an integrated, innovative, inclusive and sustainable subregion by 2036. To realise the vision, IMT-GT will strive to deliver three priority subregional goals:
Sustainable, inclusive and innovative agriculture sector;
Competitive, innovative and advanced industrial base; and
Sustainable, inclusive and competitive cross-border tourism.
Objectives
As a first step towards achieving these 20-year goals, IB 2017-2021 sets out seven key priority objectives:
Real GDP increases to US$ 299 billion from US$ 215 billion in 2014
GDP per capita increases to US$ 16,974 (2015: US$ 13,844)
Intra-IMT-GT trade increases to 11.5 percent of total IMT trade (2015: 9.2 percent)
Average annual FDI inflows to IMT-GT increase to US$ 11 billion (2011-2015: US$ 8 billion per annum (5-year average))
Average annual international visitor arrivals increase to 52 million persons (2015: 39 million)
IMT-GT Project Implementation Team and JBC implement a total 100 cross-border projects with direct MSMEs and social enterprises' participation (i.e., 20 projects per year)
At least 10 cities in IMT-GT implement Green City Action Plan (2016: 5 cities)
Project-centric
Consistent with Vision 2036, IB 2017-2021 emphasises on the need to identify and implement catalytic projects that are scalable, replicable and sustainable in order to propel IMT-GT to a deeper level of economic integration. To accelerate project implementation, IB 2017-2021 underlines the importance of instituting project-level and location- specific regulatory reforms.
Spatial approach
IB 2017-2021 resolves to maximise the economic network externalities of the five priority economic corridors through improving physical connectivity, addressing software deficits, infusion of innovation and creation of cross-border value chains. It underscores the importance of applying a spatial approach to better conserve the natural environment.
Private sector and local governments
IB 2017-2021 places the private sector and local governments at the heart of its efforts to accelerate subregional economic and social development.
Supported by seven strategic pillars and focus areas
There are seven strategic pillars to support Vision 2036, namely, Agriculture and Agro-based Industry; Tourism; Halal Products and Services; Transport and ICT Connectivity; Trade and Investment Facilitation; Environment; and Human Resource Development, Education and Culture. The seven pillars have been identified as key Focus Areas that will produce the most significant economic and social impact on the subregion. IB 2017-2021 adopts the same strategic pillars.
Underpinned by results-based monitoring and evaluation
In line with the recommendation of the Mid-term Review of IB 2012-2016, the present IB will further mainstream the results-based monitoring and evaluation system outlined in the IMT-GT Project Manual.